DIPLOMA IN POSITIVITY COACHING
Start of new Positivity Coaching course in Thessaloniki, March 2020
With ICF Certification in Thessaloniki and the guarantee of Positivity.
Theoretically proven. With a wealth of tools and models and cutting-edge coaching protocols. With practice and supervision in an environment of guaranteed learning.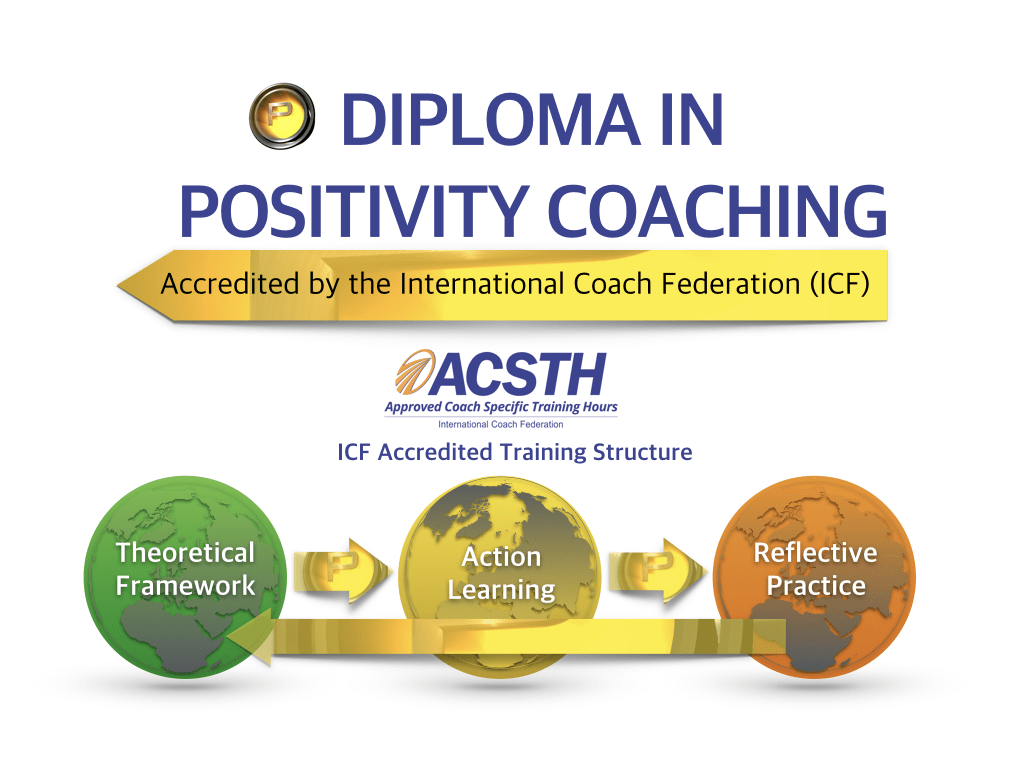 Cutting-edge and effective. Cutting-edge because it is aligned to the latest and highest ICF standards. Up-to-date also because it incorporates the latest findings informing the multidisciplinary field of coaching. That, in combination with the training experience we have acquired, make it more effective than older programmes.
Through our carefully designed training programmes, you can develop a facility to create penetrating and focused discussions which help people to experience a dynamic change in their way of thinking, to align their intentions with their actions and move decisively towards the desired outcome.
The innovative study programme presented by Positivity Coaching is designed to lift you to the pinnacle of the coaching market in Greece and beyond.
It's innovative as it combines Positive Psychology with Coaching to guarantee Positivity.
For the 1st time in Greece we present Coaching training programmes based on the theories of Seligman (Positive Psychology), Achor (work nexus), Dweck (mindsets), Fredrickson (Positivity), Chamine (Positive Intelligence), Csikszentmihalyi (flow), Kabat-Zinn (empathy), Cooperrider & Srivastva (appreciative enquiry) to support growth and welfare.
The school is certified by the National Organisation for the Certification of Qualifications and Vocational Guidance (EOPPEP) of the Ministry of Education as a Centre of Lifelong Studies 1.

The training programme:
60 teaching hours,

is certified by the largest organisation, the

International Coaching Federation(ICF)

as

ACSTH

of 60 hours This means that your diploma is

globally

recognised,

it entitles you to continue for your personal ICF accreditation (

ACC

),

It can receive a subsidisation from LAEK/OAED [Employment and Vocational Training Account/Greek Manpower Employment Organisation] and is an eligible expense from the ESPA [PA] 2014-2020,
The manuals, material, deliverables and interaction are supported by the Moodle platform. The physical workshops take place in the School.
Length of programme: 7 months
Hours of workshops: 09.00 -14.00
Standard: €1,950/6 interest-free instalments by credit card, or €1,853 in one lump sum deposit into a bank account until 7/3/20.
Three individual Coaching sessions: €70/session.
Three supervised group sessions: Free of charge.  
7 two-hour mentor coaching online
4 hour-long online supervision
3 hour-long tutorials
The students will receive entirely free of charge A. Derlopas-M.Pavlakis' book, 'Coaching Guide, Producing Results in Every Condition', which is the programme's comprehensive manual.
7/03/20
04/04/20
25/04/20
13/06/20*
12/09/20
*The period between the last two workshops in the programme is the time for study, experience gathering** and supervision, of group projects and the drafting of the diploma project.
**25 hours of practice as a coach, 3 hours as a coachee with selected ACC & PCC coaches, participation in study groups (book study groups or peer coaching groups) and a minimum participation in 3 supervisory sessions.
With small groups, in accordance with the coaching specifications.
If you set your sights on exercising coaching in the best way, supporting human development and welfare and establishing your personal presence in the promising coaching market, Positivity is the way to go.
MORE
http://www.positivity.gr/course/diploma-in-positivity-coaching-